CONCERT A L'AQUARIUM 12 MAI 2005: CRYING MACHINE

Ce concert accueillait pour la 2e fois le groupe Crying Machine, (1er concert à Millet le 13-5-2004). Ils sont spécialisés dans les reprises de rock des années 70.

On a vibré sur les effluves colorés hendrixiens de Purple Haze ou comme l'année précédente, ou au son d'une bonne vieille reprise de Whole lotta love de Led Zeppelin !


CRYING MACHINE 2005


Yann Coron (chant, guitare), Anthony Lallouet (basse), Maximilien Regnier (batterie),
Contact: yanncoron@wanadoo.fr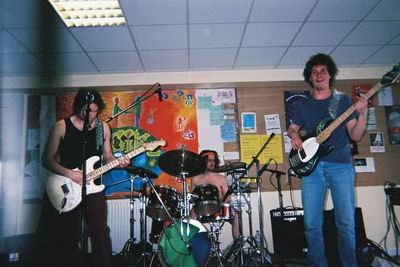 Rock'n'soul'party, Born to be wild Foxy lady, Purple Haze, Hear my train, Come together...
Retrouvez Crying Machine avec une nouvelle formation (Pierre Lebouteiller à la batterie) ici:

MYSPACE: http://www.myspace.com/cryingmachine